Rayna's Dance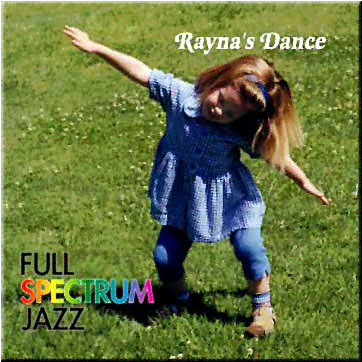 See the CD Liner Notes below
Order direct from Full Spectrum Jazz Records, Inc.:
cdinfo@fsjazz.com

---
"A second helping of invigorating big-band jazz from the
marvelous San Francisco-based ensemble Full Spectrum."
---
Liner Notes
Established in 1996, FSJ remains dedicated to performing the "Full Spectrum" of big band jazz repertoire. Comprised of Silicon Valley high-tech professionals, FSJ has garnered a reputation of delivering unique collections of music at local performances and radio broadcasts around Northern California.
In addition to keeping the big band genre alive and contemporary, we have a few other objectives in our charter. Although jazz festivals and corporate events are FSJ's bread and butter, local festivals and civic center and park concerts are personally important to us because of the joy we feel when bringing our music to the communities in which we live and work. Seeing children, teens, and adults young and old dancing on the grass as we play tells us we are reaching across multiple generations. We are working to bring FSJ performances into area schools to reach children with the wonder of live music early in their lives. We are committed to providing a quality ensemble for local composers' works, giving them a place to hear their work-in-process. This has the added benefit of adding some wonderful, new material to our repertoire.
Performances and internet broadcasts for radio stations KCSM-FM (San Mateo), KPFA-FM (Berkeley), and KGO-AM (San Francisco) have allowed us to connect with audiences well beyond the Bay Area. We appreciate their support and look forward to continuing to reach out to big band jazz fans, wherever they can be found—or created! As evidenced by this recording and our prior album, First Time Out, the band savors a wide range of styles and genres, from early Sammy Nestico swing, through 1980's fusion, up to modern-day original compositions. So hold on to your seat and enjoy the ride as we present Full Spectrum Jazz's latest…Rayna's Dance.
1. Ya Gotta Try

Composer/Arranger Sammy Nestico; features Walter Bankovitch, piano; Chuck Wasekanes and Paul Paternoster, tenor sax; Carlos Almeida, drums
Many of the FSJ players grew up listening to the great performance big bands of the 70's and 80's. Among the favorites were the Maynard Ferguson Bands, Stan Kenton Orchestra, Woody Herman's Thundering Herd and, of course, the Buddy Rich Band. We have many of Buddy Rich's hit charts in our book and decided to put one of our all-time favorites, Ya Gotta Try, on this album. The FSJ opening of this well-known Nestico standard is our own little twist on the original. One of the key elements to FSJ's driving energy lies in the relentless drumming of Carlos Almeida. In this version of Ya Gotta Try, you get a very good taste of what Carlos brings to any big band that he drives. In Buddy Rich's band, the only other guy that was in a spotlight with leadership status was the lead trumpet player. Buddy's personal favorite was Dave Stahl because of his consistency, precision, and high-note chops. A one-time student of Dave Stahl and one of his biggest fans, Dan Hallock, shares the lead book in FSJ and you can hear the influence clearly on this track (remember, the double high A at the end is not in the original ink, but Dave Stahl always played it — and so does Dan). You can clearly hear that we were striving for the Buddy Rich interpretation rather than the more reserved Count Basie one! Soloists are Walter Bankovitch, piano, Chuck Wasekanes and Paul Paternoster, tenor sax.
2. In the Evening (When the Sun Goes Down)

Composer Leroy Carr, Arranger Frank Mantooth; features Duane Lawrence, vocal; Walter Bankovitch, piano; Chuck Wasekanes, tenor sax
FSJ is proud to have one of the Bay Area's finest vocal artists, Duane Lawrence, performing with us on a regular basis. Duane's energy and musical artistry are no better demonstrated than on In the Evening. This arrangement was originally commissioned by the Strategic Air Command Notables, Offutt AFB, Nebraska, and was subsequently recorded by Frank Mantooth with Kevin Mahogony on vocals in 1992.
Anyone who has ever loved knows how it feels when a lover has gone, and might feel like shouting out that feeling as Duane does in this gospel and blues tune. Walter Bankovitch takes the piano solo. As the pianist with the Oakland Interfaith Gospel Choir, Walter is very familiar with the gospel blues style of this chart. Frank Mantooth, one of the most prolific modern day big band composers and arrangers, characteristically adds a unique twist to his arrangements, and the interlude section of In the Evening provides that twist. Chuck Wasekanes' tenor solo leads into the interlude, highlighted by Roger Levinson's Harmon-muted trumpet melody. FSJ knew that Duane was going to be the vocalist for the band the first time he showed up at rehearsal. He came prepared with a complete book of arrangements by some of our favorite artists. In the Evening is just one of the many tunes in Duane's book that the band likes to play for the "band" part, not just Duane's great vocals.
3. Love Letters

Composer Victor Young, Arranger Paris Rutherford; features Walter Bankovitch, keyboard; Sebastian Lanson, guitar; Paul Paternoster, tenor sax; Dan Hallock, trumpet
Love Letters is Victor Young's title theme song from a romantic 1945 drama starring Joseph Cotton and Jennifer Jones. As a matter of fact, this song was the highlight of an otherwise somewhat "artificial soaper" and Victor Young's rendition is the movie's "only real asset," according to film critic Leonard Maltin. The original lyrics were:
Love letters straight from your heart,
Keep us so near while apart,
I'm not alone in the night,
When I can have all the love you write,
I memorize every line,
And I kiss the name that you sign,
And, darling, then I read again right from the start…
These lyrics must have been in Paris Rutherford's mind when he arranged this rock ballad big band version for the Dallas Jazz Orchestra. It was specifically arranged to feature several members of DJO, including trumpeter and leader Galen Jeter for the first time on a DJO album. Similarly, this is the first FSJ recording to feature Dan Hallock, performing a soaring trumpet solo, in addition to the guitar work of Sebastian Lanson, piano of Walter Bankovitch, and tenor of Paul Paternoster
Galen of DJO was kind enough to allow us to record this unpublished chart. Paris Rutherford teaches jazz arranging as an associate professor of music at the University of North Texas since 1978 and was a former member of the Dallas Symphony trombone section. Elton John and Bonnie Raitt recorded this composition on their 1993 Duets album.
4. Miles Files

Composer/Arranger Steve Wiest; features Sebastian Lanson, guitar; Paul Paternoster, tenor sax; Mike Humphrey, trombone
This piece is written in the style of the modern Miles Davis fusion sound. It features trombone and tenor (Mike Humphrey and Paul Paternoster) in a small group statement of the tune that builds to high powered intensity. After two solo sections (one fusion, one straight-ahead), there is a third explosive solo section where the brass alternate John Scofield-like phrases with drums and percussion fills. The trombone section (Bill Rhea, Mike Humphrey, Craig Dunwoody, and Steve Fitzsimons) delivers a forceful finish.
Steve Wiest composed Miles Files in 1985 during the time he played trombone and arranged for the Maynard Ferguson Band, with whom he made two recordings. He played with the University of North Texas One O'Clock Lab Band, where he received his Master's Degree in Jazz Studies and was featured on seven recordings, one of which includes this tune. Steve is now Director of Jazz Studies and Trombone at the University of Wisconsin at Whitewater.
5. Moonlight in Vermont

Composer Karl Suessdorf, Arranger Frank Mantooth; features Duane Lawrence, vocal; Scott Hecker, trumpet; Chuck Wasekanes, tenor sax
Another Mantooth arrangement that the band loves to back Duane on is Moonlight in Vermont. A Frank Mantooth arrangement commissioned by the Jazz Members Big Band, this chart features the band letting loose on a straight-ahead shuffle. Scott Hecker plays the Harmon-muted trumpet dialog with Duane. Chuck Wasekanes, tenor sax, obviously feels at home soloing against this groove since he spends much of his time performing with Cross Currents, his own local fusion group and a real favorite of the Bay Area jazz club scene.
An earlier arrangement recorded as a ballad by Frank Sinatra was in Duane's mind even as he performed this modernized funky love song with a nod toward Al Jarreau in a relaxed shuffle rock style.
6. Rayna's Dance

Composer Roger Levinson, Arranger Howard Cespedes; features Roger Levinson, flugelhorn and trumpet; Mike Humphrey, trombone
The title track of this CD, Rayna's Dance, is an original composition by Roger Levinson. Several days after his first child's birth, Roger needed to get some time to play his trumpet. This drive is something that all musicians can relate to. Instead of jumping into the standard warm-up and exercises, he decided to just "noodle." Well, the overwhelming experience of the preceding days took hold of all of his musical thought and Rayna's Dance was born. The tune was spontaneous, but Roger knew that it would stick.
Soon afterwards, Roger commissioned FSJ's good friend and colleague, Howard Cespedes, to take the tune and arrangement outline and fill in the holes. After a couple of interactions, Howard said, "OK, I think I know what you're looking for." Several months later, Rayna's Dance was delivered, and that was that. No edits. No changes.
Roger's rubato flugelhorn introduction is the first statement of the melody and represents the anticipation of the arrival of a first child. The arrangement then follows Rayna's increasing passion for music and dance, accentuated by the percussion of guest artist Brad Ranola. As an infant, then toddler, Rayna loved music and would dance enthusiastically. As she has grown, her enthusiasm has grown as well, as does the intensity of the arrangement, with solos by Roger on trumpet and Mike Humphrey on trombone. The piece builds to a climactic end, where three trumpets take turns on the final sustained high note phrases; first Andy Scott, then Dan Hallock, and then Roger, as if there were no end to Rayna's Dance. As one of the original compositions on this CD, Rayna's Dance was chosen as the title track to highlight the importance of our families to the FSJ members.
7. Ill Wind (You're Blowin' Me No Good)

Composer Harold Arlen, music, Ted Koehler, lyrics, Arranger Sammy Nestico; features Duane Lawrence, vocal
Duane Lawrence delivers clever lyrics to tell the story in this soulful ballad, using the concept of a bad wind as a metaphor for a troubled relationship that you can't stay away from. This arrangement was recorded by Sarah Vaughn in 1981 with the Count Basie Orchestra.
8. First Circle

Composers Pat Metheny, Lyle Mays, Arranger Robert Curnow; features Walter Bankovitch, piano
First Circle reminds us of what Stan Kenton's bands would have sounded like playing a Pat Metheny and Lyle Mays composition. The many colors, powerful soloists, and range of dynamics from quiet and pensive to roaring, would have fit right into Kenton's unique style. FSJ carries on the Kenton tradition of a wide-ranging repertoire that challenges the musicians as well as the audience. This particular arrangement, acclaimed as one of the best big band arrangements ever done, is rhythmically complex. Right from the start, alternating 12/8 and 10/8 bars of 3-2-3-2-2 and 3-3-2-2 patterns tells you this is not your father's big band arrangement. There are constantly shifting meters and sounds from the various sections, creating an intellectually stimulating tone poem of continually increasing waves, with a driving modern beat beneath all.
9. Stiletto

Composer/Arranger Dean Boysen; features Ruben Salcido, flute; Scott Hecker, trumpet; Chuck Wasekanes, tenor sax
Dean Boysen's original composition Stiletto was first conceived in 1977. His first inspiration became a set of chord progressions and a melody that were crafted into what is now the swing bridge section. According to Dean, "The chords came to me instantly during a rehearsal break at Marriott's Great America in 1977. I was hooked." Listening to and performing music that spanned from big band to Chuck Mangione, Chick Corea and Jerry Hey, it wasn't until 1987 that the multitude of inspirations and ideas became a complete composition. Finding a group capable of performing it properly became the next challenge. This is where FSJ came into play—13 years later!
Fred Urrutia, FSJ co-founder and bari sax, played tuba in a brass quintet with Dean and was familiar with Dean as a composer. When Dan Hallock invited Dean to sub for him, Dan asked him to bring in several of his charts for the band to read. Off the closet shelf came Stiletto. After the first reading that night, the band felt this music was a perfect selection for our next CD.
We opened up the beginning a little to let Ruben Salcido blow the flute solo, and Scott Hecker and Chuck Wasekanes both get a chance to solo over this Brazilian-feeling Latin chart.
10. Going to Chicago

Composer William "Count" Basie, music, Jimmy Rushing, lyrics, Arranger Quincy Jones; features Duane Lawrence, vocal; Andy Scott, trumpet
We chose this tune because it's a connection to the great big bands and vocalists of the past. The original Jimmy Rushing rendition of Going to Chicago was actually quite risqué, as the lyrics refer to, shall we say, a "lady" of questionable character. The lyrics were cleaned up in Peggy Lee's version, recorded in the 1960's, but Duane had the Jimmy Rushing rendition in mind and tried to capture some of the grittiness of the original. Andy Scott is featured on plunger-muted trumpet.
11. Licked Clean

Composer/Arranger David Metzger; Steve Tyler, trombone; Sebastian Lanson, guitar; Anthony Pickard, alto sax
A bass/piano/bari hook recurs throughout this greasy melody line. The funk shuffle features a unison bass/trombone/bari line. Both are anchored by Fred Randolph on bass and Fred Urrutia on bari sax.
Commissioned by Hemet High School, this rendition features our guest artist Steve Tyler, who previously taught on the faculty at the Dick Grove School of Music, toured as lead trombonist for the orchestras of Mel Torme, Bill Watrous, and Harry James, and worked for many years as a freelance musician in the Hollywood entertainment industry. Steve is currently Director of the Jazz program at De Anza College and the evening bands at West Valley College.
email: cdinfo@fsjazz.com
Telephone: (408) 891-0426