Carlos Almeida, Drumset, Rhythm Section Leader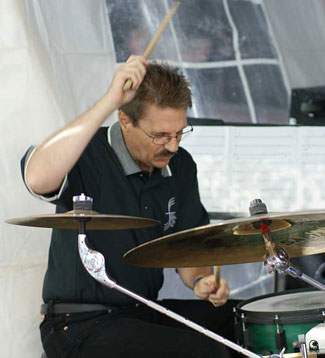 Carlos was born in Sao Paulo, Brazil, grew up in Los Angeles, California, and has lived in the San Francisco Bay Area since he attended college. He holds a B.S. from Santa Clara University.
His youth was spent touring with various marching bands and drum corps. Carlos was a 1981 Drum Corps International (DCI) Drum Corps Champion as a snare drummer with the Santa Clara Vanguard.
His drumset teachers include Hack O'Brien (dad of Mousketeer Cubby O'Brien), Ray Michaud, Don Porter, Jr., Joe Hodge, Curt Moore, Wally Schnalle, and Pete Magadini.
Carlos is a pit orchestra veteran with many years of theater productions. He has also performed with Bay Area ensembles such as Touch of Brass, Tuesday Night Live, Lyratones, Adrien Davis, Foothill College A-Band, Beth Baker, Island Riddem, and numerous other casual or orchestral ensembles. Known as a strong sight-reader, Carlos enjoys being called to sub in diverse situations and styles. In addition to his contribution to Full Spectrum, he holds the down the drum chair for the Black Tie Jazz Orchestra and the Mike Cohen Sextet. Carlos is also the primary source for the Band's print music arrangements via his Internet Company, www.siliconvalleymusic.com.
A Director of Engineering with Cadence Design Systems, Carlos lives in Almaden (San José, California) with wife, Margaret, and daughter, Lauren.

You can send email to: Carlos Almeida