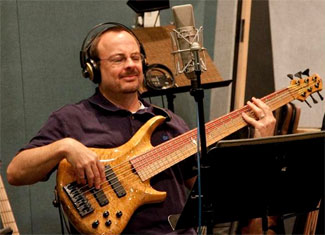 Born in Pennsylvania (go Steelers!), Jerry grew up traveling the world as an Army brat. Drums were his first instrument, and to this day — beware of any drummer who leaves his sticks on the snare drum.
At 16, he picked up the electric bass and found his true musical voice. He actually started out playing big band music, so the Full Spectrum experience is a bit of a homecoming. He quickly developed an appreciation for "good" music, regardless of genre, and branched out into blues, rock, jazz, and the venerable initials... R&B and C&W.
Jerry graduated with a business degree from the University of Arizona in 1989. In 1991, he moved from Tucson to the Bay Area, and has been busy ever since with a broad array of musical endeavors. From Top-40 cover bands to pit orchestras, studio session work, corporate/event bands, and of course Full Spectrum, he greatly enjoys contributing to fulfilling musical experiences.
Jerry has a great connection with Full Spectrum drummer Carlos Almeida, and he enjoys holding the groove with Carlos in Bay Area stalwart bands Silicon Vibe and Jazz By Design. Most recently, Jerry has recorded and performed live with jazz vocalist Rocio Guitard, and with Latin & Jazz saxophonist, Moises P. Monk.

You can send email to: Jerry Burdick