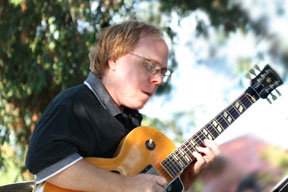 Mike Cohen, guitar, received his Bachelor of Music degree in composition at Berklee College of Music and his Ph.D. at UC Berkeley. While in Boston, he studied composition with Hugo Norden, guitar with William Leavitt and Mick Goodrick, and improvisation with Gary Burton and Ran Blake. As leader of the City Lights Jazz Ensemble, Mike was familiar to club audiences in the Boston and greater New England area. He arranged and conducted music based on Haitian Voodoo rhythms for the Haitian jazz group Volo Volo. With them, he released the album La Nature. A fruitful collaboration with the Haitian poet and songwriter, Jean-Claude Martineau, resulted in the album Min Rara. In a third album, SAM, Mike's compositions are the subject of experimental jazz improvisation. In addition to writing and arranging for many jazz groups, he has written orchestral, chamber, and electronic pieces. While at UC Berkeley, Mike led an interdisciplinary seminar series in computer music.
Mike has traveled throughout Haiti recording the rhythms played at Voodoo ceremonies. In Indonesia, he recorded ancient styles of Gamelan music not usually heard outside a few small villages. He takes special pleasure in making these rarely heard forms accessible to jazz audiences.
Mike writes for and leads his own sextet, The Mike Cohen Sextet, which includes FSJ drummer Carlos Almeida and FSJ pianist Walter Bankovitch (who contributes his own compositions to the band). They released their first CD, "Fugue," in 1997. In 2000 The Mike Cohen Sextet appeared at the Montreux Jazz Festival in Switzerland.
As Vice President of Dialog Research and Development at Nuance, Dr. Cohen is one of three technical founders (1994). Previously, he was at SRI's Speech Technology and Research Lab for more than ten years. At Nuance, Dr. Cohen and his team are responsible for the development of advanced technology and the design of voice user interfaces. Mike coauthored the book "Voice User Interface Design," published by Addison-Wesley in January 2004.
Mike lives in Portola Valley with spouse Beth Taylor, and children Anika (born 1997) and Toby (born 2001).

You can send email to: Mike Cohen