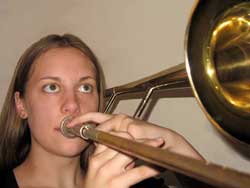 A native of San Jose, Andrea began playing trombone at an early age. Her first experience playing jazz was at Bernal Intermediate School where the students were regular participants in local jazz festivals. At Valley Christian High School she participated in the marching band, concert band, swing band, and jazz band. She also got her first experiences playing for musicals during this time.
Andrea decided to continue her musical career in college and majored in music at California State University, Hayward. Under the instruction of Timothy Smith she participated in various chamber groups as well as the university Wind Ensemble. Under the direction of Dave Eshelman, she participated in the jazz ensembles and combos.
Andrea has had the privilege of performing with many guest artists including Jon Faddis, Phil Woods, Ingrid Jensen, Kim Richmond, Jamie Davis, Dann Zinn, Dave Eshelman, Shelly Berg, Gregg Field, and Alan Kaplan. She has studied privately with Robert Szabo, John Russell, Dave Gregoric, and Dave Ridge.

You can send email to: Andrea Fennern