Former Band Member: Craig Dunwoody, Trombone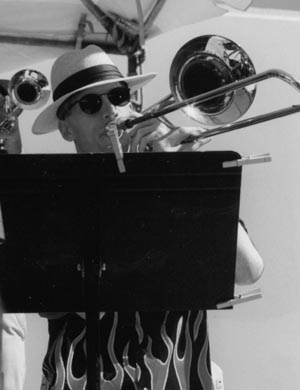 Craig Dunwoody grew up in Eagle Rock, CA, (northeast LA) and began playing trombone in 1968 at the Los Angeles Community College Conservatory. He learned the ways of big band jazz in John Rinaldo's 6-year program at Eagle Rock High School in Los Angeles from '72 to '78. He also studied privately under many of LA's studio players including Jim Sawyer, Bill Reichenbach and Roy Main.
He earned his B.S.E.E. ('82), M.S.E.E. ('84) and M.S.C.S. ('85) from Stanford University. Craig plays trombone in a number of groups, including the Stanford Jazz Orchestra ('78-'82 and '93-'97), the Foster City Swing Band, the Gordon Stewart Trombone Choir, and Klam-o-Rama (one of the house bands at Silicon Graphics, Inc.). He has also played with the Elby Coy Orchestra, Swing Solution, the Sliding Stars, the Lyratones, and the Tyroleans. Musical theater gigs include the Summer Series at Occidental College (Pajama Game, Carousel, and numerous Gilbert and Sullivan productions), The Company and Ram's Head at Stanford University (Big Game Gaieties, Hello, Dolly!, Candide, A Little Night Music, Cabaret, and West Side Story), and a most recently a production of The Music Man in Portola Valley. Recent "legit" gigs include choral performances of the Vaughan Williams Dona Nobis Pacem under Gregory Waite in Palo Alto and the Faure Requiem under Rafael Ornes in Los Altos.
Craig is employed by Silicon Graphics where he works on 3-D graphics software.