Former Band Member: Steve Fitzsimons, Trombone & Bass Trombone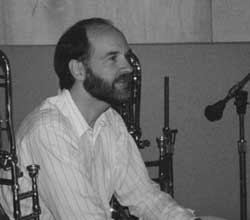 Born and raised in San Mateo, Steve has played in big bands in the area since 1975. He studied trombone with Tommy Bridges and Dick Leland.
He received a B.S. in Civil Engineering and an M.S. in Transportation Engineering from UC Berkeley where he also took music classes. While there, he toured Scandinavia in 1979 with the UC Berkeley Jazz Band appearing with Clark Terry and Sonny Rollins.
Steve has played in orchestras, brass quintets, jazz bands, and swing orchestras including the West Valley Opera, Full Faith & Credit, the Bay Bones Trombone Choir, and the Auburn Symphony Brass Quintet, and has recorded at Fantasy records. As a tall trombonist, Steve reports he enjoyed being in such a tall section; any time the trumpets were too loud, the trombones could stand up and muffle them!
Steve is a traffic engineer at TY Lin International/CCS, a transportation (highways) consulting firm. He lives in Mountain View. Steve's hobbies include camping, horseback riding and gardening.