Former Band Member:Garo Gagliano, Trombone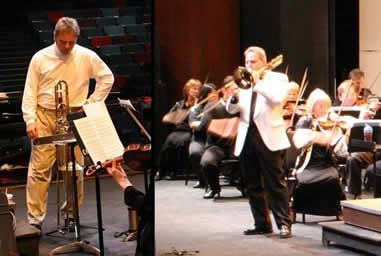 Garo Gagliano began playing Trombone at age 9, spending his formative years studying under the masterful guidance of George Johnston, Principle Trombone of the San Diego Symphony; and George Halbig, a student of the great Emory Remington.
Mr. Gagliano has been playing with assorted brass ensembles, bands, and orchestras throughout the Bay Area since 1995, and currently holds the double positions of Co-Principle Trombone with both the Redwood Symphony and Peninsula Symphony Orchestras. His current musical groups include Redwood Symphony, Peninsula Symphony, Master Sinfonia Chamber Orchestra, and Mission Chamber Orchestra.
Mr. Gagliano has studied a wide range of musical performance styles including classical, jazz, rock, and blues, and has performed at both the Reno and Berkeley International Collegiate Jazz Festivals. Among his notable recent symphonic efforts are performances of Frank Martin's "Concerto for 7 Winds and Percussion" and the infamous "Mozart Tuba Mirum," both recorded in live performance with Master Sinfonia Chamber Orchestra. Also of note was his 2003 performance of Grondahl's "Concerto for Trombone and Orchestra" with the Redwood Symphony Orchestra.
Garo's current musical coaches include long-time mentor and friend and member of the San Diego Opera Orchestra, George Johnston, and Marc Bolin, a top local Bay Area low-brass specialist, arranger, and recording artist. His past mentors also include Mark Lawrence, Principle Trombone of the San Francisco Symphony Orchestra, and Tony Collins, a well-known San Francisco/Bay Area free-lance artist. Garo's musical heroes are James Pankow of Chicago Transit Authority, and Joseph Alessi, Jr., Principle Trombonist of the N.Y. Philharmonic. It is rumored that Garo carries with him at all times a picture of Mr. Alessi, being conducted in solo performance, by Leonard Bernstein.
Garo currently resides in Foster City, California, with his cat Gina and a rather extensive science fiction and Japanese Anime Art collection, and where he is employed during the daytime as a Network Engineer/Consultant.