Former Band Member: Jon Hassan, Baritone Saxophone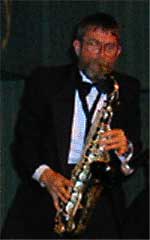 Jon's been playing the sax for over 30 years, and played in Europe for several years while a member of the Army. He plays all of the saxes, and especially loves the baritone. He also plays the flute, bassoon, and, somewhat grudgingly, the clarinet.
Jon is a machinist in the "real world."
Vern Brooks Latin Big Band: 1973 - 1974 & 1975 - 1977
U.S. Naval School of Music: graduated 1974
U.S. Army's 7th & 8th Infantry Division Bands: 1974 - 1983
Johnny "Guitar" Watson's European Tour 1981
West Valley College 8 O'clock Jazz Band, Joe Davis Director: 1993 - 1999
Galvin Jackson's Metro Big Band: 1994 -1996
Mike Sloan Big Band: 1992 - 1998
U.S. Army's 91st Division Band: 1991 - 1993 & 2001 - present
Swing Solution: 1993 -1997, 1999 - present
A Touch Of Brass with Ed Morrison: 1996 - present
Silicon Valley Houserockers: 2003 - present
Full Spectrum Jazz: 2003 - 2008
Silicon Vibe: 2003 - present
Ohlone College Community Band: 2003 - present
Also appeared with:
Louis Belson
Black Tie Orchestra
String of Pearls
Chris Ferrari