Former Band Member: Mike Humphrey , Trombone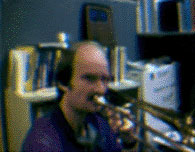 Mike was born and raised in Chickasha, Oklahoma, studied trombone under Paul Enix in high school, obtained a B.A. and M.A. in Math/Psychology from Universities of California (Berkeley) and Oklahoma.
While living in Los Angeles, Mike studied music & trombone with Robert Marsteller, principal trombonist with the LA Philharmonic, and Bill Tole, studio player. He studied jazz improvisation with Britt Woodman, who was Duke Ellington's jazz trombonist for 20+ years. He worked in LA as a full-time professional for a number of years as a freelance recording artist, playing fusion, jazz, cartoon background music, and television commercials. He also played with the Hollywood Trombone Choir with Tommy Pederson, Bill Tole, Jim Sawyer, Dick Nash, Morris Repase, and George Roberts.
He worked in the Ray Charles Band, subbed in the Harry James band, and joined the national touring company production of the musical Lenny (the Lenny Bruce story). After a year on Broadway, he landed again in L.A. In Lenny, the trumpet and trombone player had lines in the play in addition to the music and they were paid under both the Actors' Equity and the American Federation of Musicians' unions. The show was directed by Tom O'Horgan (who also directed Hair and Jesus Christ Superstar). Mike played the pit band for Funny Girl starring Lainie Kazan, and other Broadway and San Francisco shows.
Mike later moved back to the Bay Area where he was a member of the Full Faith and Credit big band for two years, and he played with the Dave Eshelmann Jazz Garden Big Band for 16 years, recording two CDs. Mike also played with the Don Piestrup band, Rudy Salvini, Rudy Castro, and many other local bands, and in show bands for Vikki Carr, Teresa Brewer, and Lainie Kazan, among others.
Still active in northern California with some of the LA music scene, he played with Bobby Caldwell in Santa Cruz in February 2000, in a band that included Scott Engelbright, Craig Woods, Karolyn Kafer, and Bob O'Donnell. He played with vocalist Jamie Davis in 2007, along with Marty Wehner, Chuck Bennett, Wayne Wallace, and Rick Walsh as the trombone section in the Jamie Davis AllStars and the Fred Berry Orchestra, and joined Full Spectrum to play with singer Paula West in August 2007. He's currently in Silicon Vibe, Octobop, and Ed Morrison's Touch of Brass, recorded a CD with TOB, and also recorded a CD at Fantasy Records in Berkeley.
In 2002 Mike resumed private teaching. He has six students at West Valley Music in Mountain View and four students whom he teaches at his home in San Mateo.
During 2006, Mike played for American Musical Theatre productions at the San José Center for Performing Arts, including Gypsy (March 2006), Sweet Charity (Broadway Tour, October 2006), The King & I (October 2006), and Dreamland Christmas (November 2006).
In addition to his musical endeavors, Mike worked for Silicon Graphics, Kendall Square Research, CDC, and aerospace companies as a computational scientist on high-end scientific and engineering systems. He lives in San Mateo and has three children and four grandchildren. He enjoys researching World War II ships in the Pacific, and is writing a WWII memoir based on letters between his mother and father while they were separated during the war.
Mike has co-sponsored several WWII LST 1103 (Landing Ship for Tanks) reunions and contributed to the effort to bring back an LST to the USA. The LST was the only type of WWII ship not existing in a WWII floating museum somewhere in the USA, until the LST Association and supporters worked with the Greek Navy to sail LST 325 to the US. It's currently docked in Mobile, Alabama and makes periodic voyages in the Gulf and up the Mississippi.
These two worlds met when Mike toted his trombone aboard the LST 325 in Mobile on Feb 26, 2002, and played some notes of tribute to the memory of his father and WWII veterans who sailed the LSTs to foreign shores.
Latest hobby: researching DNA Genealogy and connecting family lines with paper trails back 10 generations. DNA testing makes it possible to probe deep ancestry in Europe. Take a look, at humphreygenealogy.com.