Former Band Member: Douglas G. Miner , Trombone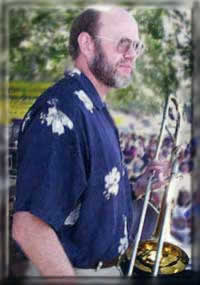 Doug has played trombone since attending elementary school in Belmont, California, holds a Master's degree in music performance on bass trombone, and has been a public school music teacher since 1976, with teaching experience at all levels. He is a fellow of the California Arts Project, has co-owned two music stores and a sound company (worked with Juice Newton, The Flying Burrito Brothers, the David Grisman Quintet, Rose Maddox, Hank Williams, Jr., and many others).
As a freelance trombonist throughout northern California since 1969, Doug has played or recorded with Maynard Ferguson, Bob Hope, Tony Randal, Anthony Newly, Joel Grey, Richie Cole, Mic Gillette, Dave Garibaldi, Roco Prestia, Angela Bofill, Norton Buffalo, Maria Muldaur, Ray Vega, Mark Levine, Jorge Santana, Tito Puente, Jr., Sapo, the Berkeley Symphony Orchestra, the San Francisco Concerto Orchestra, the Carmel Bach Festival Orchestra, Don Piestrup Big Band, Cuz Cuzno Big Band, Rudi Castro Big Band, Matt Schon Big Band, Rudi Salvini Big Band, Chops Big Band, Jose Alfredo Mohica Big Band, Tuesday Night Live Big Band, and many others.
Doug teaches at Bayside Middle School for the Arts in San Mateo and works with Safari, a Bay Area Latin band, the Bill Travis Swing Orchestra, a society swing band, and Groove West, a corporate party band. He is also the conductor of Your Community Band, a 70-piece symphonic band based in San Mateo.