Former Band Member:
Paul Tynan, Jazz Trumpet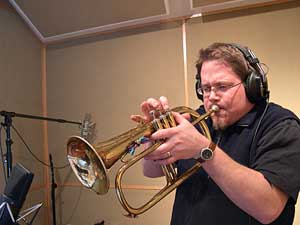 Trumpet player/composer Paul Tynan was born in Fort Erie, Ontario, Canada. He is presently living in San José while on Sabbatical from St. Francis Xavier University, Nova Scotia, where he teaches Jazz trumpet, Jazz arranging, and directs the St. FX Jazz Nonet. He holds degrees from the University of North Texas and SUNY Potsdam's Crane School of Music, and is an Edwards Trumpet Artist/Clinician.
Paul has served on the faculties of the Nova Scotia Honor Jazz Program, Acadia University Summer Jazz Camp, and University of North Texas Summer Trumpet Workshop, and currently serves on the IAJE Canada executive board as Newsletter editor. Paul has recorded on over 30 albums, including four as a leader (Radio Infrequency, Digital/Spiritual, NJPT, and Freedom and Jealousy, all on the NohJoh Music label).
Paul has performed with numerous jazz artists such as Chris Potter, Jim Black, Django Bates, Terry Gibbs, Gene Smith, Joey Baron, Michael and Randy Brecker, Clark Terry, Bob Brookmeyer, Jim McNeely, Byron Stripling, The Four Freshmen, Matt Wilson, the Benny Goodman Band led by Clem De Rosa, and the Guy Lombardo band led by Al Pierson. Paul has also recorded with Kenny Wheeler, Lynn Seaton, Dan Haerle, Noel Johnston, Joel Fountain, Aaron Lington, Dave Restivo, and the Dallas Jazz Orchestra.
Paul received his Masters in Jazz Studies from University of North Texas where he was a Teaching Fellow in jazz improvisation and large jazz ensembles, and a member of the internationally acclaimed, Grammy-nominated One O'Clock Lab Band. Paul has received a number of honors, including a Canada Council for the Arts grant to compose new works for jazz ensemble, Down Beat Magazine's student music award for best jazz instrumental soloist (2000), and a Down Beat Magazine's student music award for best small jazz ensemble (2000), among others.