Former Band Member: Fred Urrutia, Baritone Sax, Founding Partner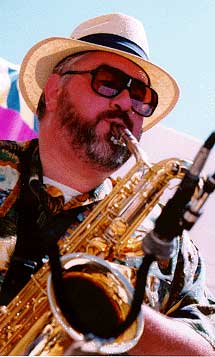 Fred grew up in New Jersey, where he played alto saxophone in elementary and junior high school. He played baritone saxophone in his high school big band and started playing tuba in tenth grade. Fred later studied tuba as a performance major at Montclair State Teachers' College and the Manhattan School of Music. His primary tuba teachers were Don Butterfield (American Symphony Orchestra, Miles Davis, Frank Sinatra recordings) and Sam Pilafian (Empire Brass Quintet, New York Philharmonic, Boston Symphony and founder of the Travelin' Light Jazz Band, which uses a tuba lead). Fred studied saxophone with John Placa (who was with Charlie Spivak, both Dorsey Bros, and other big bands) and later with Mel Martin of Novato (Beebop and Beyond), a well-known saxophonist whose 1994 CD, Mel Martin Plays Benny Carter, received critical acclaim.
Fred worked as a freelance musician in the New York area from 1976 through 1989 with the New York City Symphony (various conductors), Hudson Valley Philharmonic (under Charles Dutoit), New Jersey State Opera Company (under Alfredo Silipigni), the Susan Creitz Dance Company and other dance companies, the George Seufert Concert Band (Queens, NY), the Staten Island Musicians Society (Staten Island & Brooklyn concert band) and dozens of Dixieland bands. He has played Dixieland tuba at all the major sports venues in the New York area, including the NY Yankees, NY Mets, NY Rangers, NY Giants, and NY Knicks (imagine that, getting paid to play at major league games and watch the action!).
Fred was a founding member of the Konzert Brass Quintet and Star Spangled Spectacular Brass Quintet, which were both active groups doing corporate events, radio broadcasts, and concerts in schools, hospitals, race tracks, amusement parks, and parties, and were featured guests on the Jean Shephard's America PBS television series.
Fred's freelance work also included tuba spots with Vince Giardiano's New Orleans Nighthawks, Gary Lawrence and His Sizzlin' Syncopators, the Sauter-Finnegan Big Band, Eddie Aponte's Orquestra Cimmaron (Latin Big Band), and Mel Torme.
Fred's job with LSI Logic moved him to California in 1989 where he began playing with Dixieland and concert bands in the San Francisco Bay Area. In 1995, he joined the Lawrence Livermore National Laboratory Big Band on bari sax under the direction of Bob Olness. In addition to the LLNL Big Band, he has played with Don Victor's Blast from the Past, another East Bay swing band.
Fred and Roger Levinson met over a Chinese dinner at Ho-Chows in Fremont, California, in August of 1996 to found Full Spectrum Jazz.
Married, father of five and grandfather of five, Fred is currently VP Worldwide Sales & Business Development at Broadband Technologies, Inc. (www.bbti.us), a leading provider of video and datacast reception over satellite, cable, and terrestrial broadcast networks, including DTV receivers. While with Full Spectrum, Fred and his family resided in Livermore, California. In 2003 they moved to a quiet rural area of the Helderberg Mountains in New York State, about five miles from the village of Rensselaerville, NY.