Dan Hallock, Split Lead Trumpet
& Very High Notes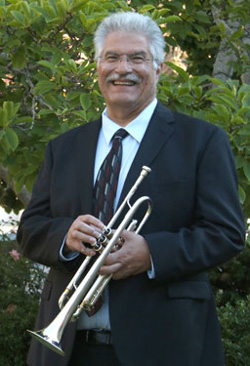 Born in Lake Worth, Florida, Dan was raised in Great Falls, Montana, where he studied music under the instruction of his mother, who was the instrumental music teacher of his elementary school. He started playing piano at 6, trumpet at 7, and studied violin, clarinet, trombone, baritone, French horn, and drums while still in elementary school!
Dan received a Minor in Music while obtaining his Bachelor's in Mechanical Engineering from Rensselaer Polytechnic Institute in Troy, NY. While still in high school, Dan played professionally with the Great Falls Symphony Orchestra, the Great Falls Municipal Band, and as a freelance soloist. At RPI he was active in the RPI Jazz Ensemble, RPI Symphony Orchestra, a founding member of the RPI Brass Quintet, and played lead trumpet in the Wayne Wickham Big Band during summers. Dan has studied trumpet with Fran Sidor, Dave Stahl, and Wayne Bergeron.
After moving to Northern California in 1979, Dan played lead trumpet with the Stanford University Studio Jazz Band for two years. For 17 years, he performed with both the Lyratones dance band and Tuesday Night Live concert jazz band.
Dan is first trumpet and a founding member of the Menlo Brass Quintet, which has given several hundred concert programs since it was formed 1982, in area churches, schools, universities, Flint Center (Cupertino), Center for Performing Arts (Mountain View), on KQED-FM, at Candlestick Park for the San Francisco Giants, and several Arts & Wine Festivals. The Menlo Brass Quintet has recorded a CD that is available on their website (www.menlobrass.com). Dan is an active local freelance player and can be heard on the 1994 "Soli Deo Gloria" CD by One Accord and "Conga-Line In Hell", recorded in 2002 by the Redwood Symphony.
Dan spent 14 years at Ampex Corp. in various engineering and engineering management positions, where he developed ten different digital data and video magnetic recording systems. He was awarded both the Alexander M. Poniatoff Silver Award and the Allied Signal Corporate Technical Achievement Award for outstanding contribution in the development of the Super High Bit Rate Recorder.
For 14 years, Dan worked as Director of Design and Systems Engineering within Boston Scientific's Electrophysiology Business (originally at Cardiac Pathways Corporation, acquired by Boston Scientific in 2001), where he designed many advanced catheters and several systems for diagnosis and treatment of complex cardiac arrhythmias.
Dan is Director of R & D at a medical device start-up company in Sunnyvale, Miramar Labs, Inc. Miramar is developing electromechanical solutions to serve a significant market opportunity that plans to launch breakthrough technology to a fast-paced market. Miramar is a portfolio company from The Foundry®, a premier medical device company incubator for inventors to transform their concepts into companies.
Dan resides in Redwood City with his wife, Janet. Their two grown sons, David and Joey, have taken after their Dad — both are mechanical engineers as well as musicians. While not being Dad, husband, inventor, or musician, Dan is an avid fan of Formula One and Indy Car open wheel racing.

You can send email to: Dan Hallock