Duane Lawrence, Vocals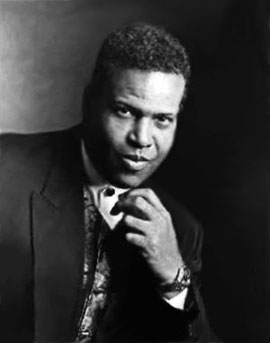 A native San Franciscan, Duane has a warm, sensuous voice and displays high energy on stage, which translates to a crowd-pleasing performance. Possessing a rich baritone, he is reminiscent of some of the great male vocalists of the past. He's versatile, able to croon a smooth ballad, swing with the best, and belt out R&B tunes too.
Some career highlights include:
For over 13 years, one of the featured vocalists with the 16-piece Contemporary Jazz Orchestra at Jazz at Pearl's in San Francisco. He started with the band on its very first performance, on the first Monday night in January 1995, and continued as the only vocalist performing with the band every Monday night for the next four years. He continues to work with the CJO monthly at the club. He's the featured vocalist on the band's first recording, Trench Heroes, recorded live at Yoshi's.
For over seven years, Duane has been a featured vocalist with the fabulous Full Spectrum Jazz big band, a dedicated of group of musicians based in Silicon Valley performing a "full spectrum" of musical styles from laid back Count Basie swing, to polyrhythmic Latin, to contemporary arrangements by today's composers. He's the featured vocalist on the band's last two recordings, Rayna's Dance and Pursuits.
In 2004, Duane joined a newly formed band, Silicon Vibe, conceived and led by Carlos Almeida, who along with being a great band leader is one of the best drummers in the business. Duane adds his soulful and energetic style to this high-energy party cover band with 3-4 vocalists, horns, and a slammin' rhythm section.
In the mid 1990's, Duane formed his own group, the Lawrence Expressway Band, and for over two years worked with Richard Healy on guitar, Mark Gelfand on keyboards, and Ernest Carter on drums, belting out soulful R & B tunes as the house band at one of the Peninsula's hottest night spots.
Over 500 performances with the Starlight Orchestra at the historic Starlight Room at the Sir Francis Drake Hotel, entertaining patrons from all over the world.
Consecutive winter seasons at the five-star resort, The Little Nell Hotel in Aspen, Colorado.
From small group jazz, standards and R&B to fronting a big band with his own library of big band charts, Duane is available for bookings. On the web: www.duanelawrenceonline.com

You can send email to: Duane Lawrence