Don Olivet, Second Alto Saxophone
Flute, Soprano & Tenor Saxophone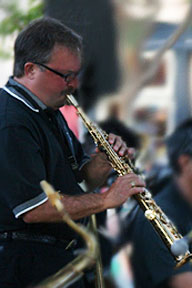 Born in 1953, Don has lived in Los Gatos, California ever since. He studied at West Valley Junior College and graduated from San José State University in 1976. Don started playing woodwinds in the 2nd grade, studied with Art Gallegos and later with Modesto Briseno until Mr. Briseno's death. Don later studied jazz improvisation with Warren Nunes, local jazz guitarist. He has been involved with the Jazz Department at West Valley Junior College for the past 30 years, participating in the night bands of Joe Davis on and off throughout that span.
In 1972, Don began an association with pianist Greg Hester that continues today. The two of them have fronted various jazz quartets for the past 30 years, having the pleasure of working with some of the Bay Area's finest bass players and drummers. With one particular quartet they toured Europe three times during 1976 - 1978 performing in Holland, Denmark, Germany, Austria, Switzerland, and Italy. The management company for these tours also booked Johnny Griffith, the great tenor saxophonist from Chicago who moved to Europe during the jazz exodus of the '60s. This led to Don and Greg playing together with Jimmy Woode, Sonny Stitt, and various other touring artists in Europe.
Between tours, Don and Greg were involved in the local club scene: Mesa's (Los Gatos, '73-'76); Grog & Sirloin (Los Gatos '77-'80); Lord John's (Santa Clara '80-'82); San Jose Cafe ('82-'86); Number One Broadway (Los Gatos '87-'90); Los Gatos Lodge (to present), as well as gigs in San Francisco and the North Bay where Greg presently resides. In 1975, Don and Greg met and performed with legendary drummer Louis Bellson in San Francisco, starting a relationship that continues to today. Don still plays with Louis Bellson's local big band, The Musician's Warehouse Big Band, led by Louis himself. This band is dedicated to performing Louis Bellson's library, either charts written by Louis or by his associates through the years, going all the way back to Harry James, Duke Ellington, Count Basie, and all the bands Louis has been with over the years.
About his association with Full Spectrum Jazz, Don says, "Being a tenor player all of my life and playing primarily alto with FSJ has been a challenge, but one that I have thoroughly enjoyed. I am honored to play with so many outstanding musicians. I would like to thank Carlos Almeida (FSJ drummer), for being so persistent in recruiting me and convincing me to play alto with FSJ. I am looking forward to many years of contributing to this great band". [Editor's note: Carlos had asked Don to play with us earlier, but Don was committed to another ensemble. Carlos kept in touch with Don, and Carlos and Fred tag-teamed him, eventually getting Don to come play, after which Don decided he just had to join up! And despite Don's comments about alto being a "challenge", he plays a mean alto sax!]
Don owns Acme Saw Sales & Service in partnership with his younger brother, Ken Olivet. Their business serves the woodworking, aluminum, plastic, metal, and paper industries with cutting tools and services. Don resides in Los Gatos (where else?) with his wife, Carla. They have two married daughters, Shannon & Leila, three wonderful grandchildren (Anthony, Teyran, and Carina), and sons-in-law Bob Olsen and Sean Gangi close at hand.

You can send email to: Don Olivet