Steve Tyler, Trombone
Musical Director for "Rayna's Dance" CD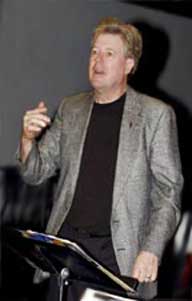 Steve Tyler, musician, educator and occasional conductor for FSJ, recently returned to his boyhood home of Mountain View after a 25-year absence from the Bay Area. In the 1970s he attended De Anza College in Cupertino, where he played for Dr. Herb Patnoe's great jazz bands, and worked for two summers as a musician at Santa Clara's Great America amusement park. He subsequently moved to Southern California to finish his Bachelor's degree at California State University, Northridge.
After graduation he remained in L.A. to pursue work as a freelance musician in the Hollywood music scene. He toured as the lead trombonist with the orchestras of Harry James, Bill Watrous, and Mel Torme, performed with the big bands of Louis Bellson, Bill Holman, Tex Beneke, and Ray Anthony, and played professionally for entertainers such as Tony Bennett, Marvin Hamlisch, Barbara McNair, and Peter Nero. He also did studio work and was on call for symphony orchestras such as the Ventura County Symphony and West Valley Symphony, not to mention various brass chamber ensembles, dance bands, R&B bands, Salsa bands, Dixieland and traditional jazz groups, Renaissance ensembles, Polka bands—everything up to and including the L.A. Raiders Band!
As a composer and arranger, he wrote charts for many singers and performing acts, arrangements for his Brass Quartet, and charts for college and high school marching bands and jazz ensembles. He has big band charts published by UNC Jazz Press, marching band arrangements by Almo Publications, trombone choir arrangements by Touch of Brass Music, and score transcriptions (Yellowjackets, Sting, Blood, Sweat and Tears) done for the Hal Leonard Corporation.
As an educator, he taught a class at Los Angeles City College, and later served on the front office staff and taught for several years at the Dick Grove School of Music, a well-known professional school in L.A. In the mid-1990s, he returned to school and earned a Master of Music degree in Jazz Studies from the University of Southern California. Upon graduation, he was offered his first full-time collegiate professorship: running the instrumental program for the School for Music Vocations at Southwestern Community College in Creston, Iowa. While in Iowa, he honed his teaching skills, adjudicated and did clinics for music contests and jazz festivals, and, while braving the cold, icy winters, humid summers, and long drives through the cornfields, met many wonderful colleagues and students and gained a great deal of appreciation for a much simpler life.
Once his wife and children had experienced enough of the wilds of Iowa, he brought his family back to the Bay Area in 1999. His teaching schedule rapidly filled up, and he has since taught classes at West Valley and Foothill College, served as grades 4-8 band instructor at three local Catholic schools, and been a faculty member for the San José Jazz Society's "Jazz Goes to College" summer camp. He directs the Daddios evening jazz band at De Anza College (his alma mater) and the jazz band at his daughter's school, Blach Intermediate, and teaches private students at West Valley Music in Mountain View (http://www.westvalleymusic.com/). And he's become in demand as a trombonist again, performing recently for artists such as Robert Goulet, Johnny Mathis, and The Temptations, as well as with local dance bands, jazz groups and as an occasional sub for FSJ. With all this, somehow he carves out the time for his most important jobs: husband to his wife Carolyn, a wonderful pianist and composer in her own right, and dad to his two children.

You can send email to: Steve Tyler