C. J. Posner, Lead Trombone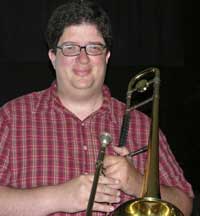 C. J. grew up in San José where he played in the Alum Rock School District Jazz Band and the William C. Overfelt High School Jazz Band. After attending California State University Hayward, he went to the University of North Texas for graduate work in Jazz Studies.
C. J. has studied trombone with Oliver Marr, Robert Szabo, Dave Ridge, Dave Gregoric, Vern Kagerice, and Tony Baker. Among the music groups he has played with in the Bay Area are the Vern Brooks Latin Jazz Band, the Villages Dance Band, the San José State Big World Jazz Band, and the Foothill Orchestra (now the Silicon Valley Symphony). He currently lives in Napa. His interests include archery and writing about himself in the third person.

You can send email to: C. J. Posner